Building Access
Aerial platform - A good Access method for window cleaning and pressure washing buildings that do not have updated roof anchors per OSHA
1910.27(b)(1)(i)
basically stating that the building owner must provide documentation for each anchor being used to descend on a building based on annual inspection by a qualified person and certification of each anchorage, as necessary, and at least every 10 years.
RDS (Rope Descent Device) - Probably the most used and oldest window cleaning device.
Window cleaning using RDS Is probably one of the oldest and widely used cleaning methods. A good option for when a building has up to date certified anchorages per OSHA Standard
1910.27(b)(1)(i)
and is less than 300 ft (or 28 stories)l.
Safety : Glass Masters uses a two rope system to ensure the saftey for our employees and everyone else around. All Glass Master employees have been put through extensive in house RRT (Rope Rescue Training) as well as PRAT (Professional Rope access Training)

Access: Using professional equipment rope technicians are able to reach most hard to reach areas on a building.

Cost effective: Cheaper than using a Aerial Platform
Not sure which solution best fits your companies needs? Call and our representative will help you choose the option best suited to your needs.
Commercial Window Washing Anchorage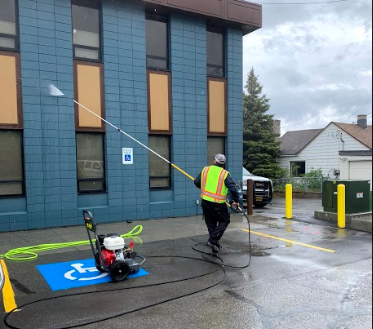 Do you need commercial window washing service near Anchorage, AK or its surrounding area? You are in the right place. At AK Glass Masters, we offer professional commercial window washing service to clients throughout Anchorage and beyond.
We use the best quality tools, techniques and materials on every commercial window washing job we provide for Anchorage or its surrounding area.
We specialize in:
Commercial building cleaning
Building exterior cleaning
Commercial building washing
Cleaning office buildings at night
For the safest and most effective commercial window washing services near Anchorage, we are the people to call. We deliver excellent commercial window washing results, every single time.
Call AK Glass Masters for commercial window washing near Anchorage.
(907) 575-3553