Glass Masters strives to make your experience with us as smooth and personable as possible - Here is how it works!
For an estimate we will need your name, address, and contact information

We then search our database to see if you are a repeat customer or if we have done your building in the past

Discuss your project and complete an estimate to give you a price, at Glass Masters we strive to get your estimate back as soon as possible often same day

Book your job to accommodate your schedule

On the day of your appointment our team shows up on time, with a can do attitude to make you a customer for life!
Regular Wash - annual, biannual, or quarterly window cleaning
This is our most common window cleaning contract. A cleaning solution is applied and scrubbed onto the glass then a squeegee is used to remove the dirty water. We also cleans all screens, and wipe down the bottom of the window sill leaving a sparkling window.
Post Construction clean
This service is more expensive do to the time it takes to properly clean them, this would be any post construction where paint, calcium build up, concrete, artillery spores (the little black spots all over siding and windows caused by artillery fungus) or other substances on the glass that require a professional window scraper.
How post construction cleans work
The window is scrubbed with the cleaning solution, scrapped with a professional window scraper to get all debris of the window, hand scrubbed with a specialized window pad to get the grease off, then finally washed a third time with a scrubber and squeegee. This process often takes four to five times longer than a Regular wash.
Wont using a window razor scratch my windows?
It is not that easy to scratch glass with a professional window scraper. Why? Glass is made of silicate sand, the same material which goes into cement. Window razors are made of stainless steel, which is many times softer than glass. Only the silica can scratch the glass because it is as hard or harder than the glass itself. At Glass Masters we replace our stainless steel razor blades between every house keeping them crisp and sharp. Scratches on the glass are cause by either fabricating debris (microscopic glass dust/particles), bonded to the glass when it went into the oven to harden it, or silica based cementum particles, which got stuck between a scraper razor blade and the glass if the scraper was used by a non- professional.
Exterior Only Cleaning
Sometimes we get requests for only exterior window cleaning because the interiors look clean. While the interior windows may look clean, once we clean the exterior windows it pulls out all of the imperfections on the interior. Sometimes we receive calls from customers after completing only exterior windows to come fix a steak to make their window look perfect and it turns out to be on the interior glass. We recommend if we are already on the job, to clean both interior and exterior windows to exceed your expectations of what a clean window is!
Residential Window Washer Anchorage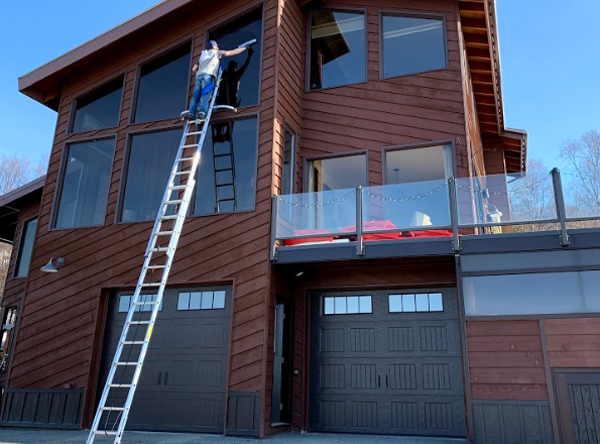 Are you searching for a reliable residential window washer serving Anchorage, AK? Your search ends with AK Glass Masters. We are a professional, dependable residential window washer serving Anchorage and its surrounding area.
When you hire us as your residential window washer for Anchorage or its nearby area, you are choosing a peace of mind that the job is in competent hands. We have the tools, expertise and equipment needed to perform a high quality residential window cleaning job for your Anchorage home.
Choose us for:
Home cleaning
Window washing
Residential cleaning
Window services
If you would like to discuss your needs with a residential window washer serving Anchorage, please feel free to contact us. We cannot wait to serve you.
Call AK Glass Masters for residential window washer near Anchorage.
(907) 575-3553